We continued our apple study this week. We learned about seasons and how the apple tree changes during each season. We also talked about the different parts of an apple. We used picture cards to match the mode of transportation to the place the girl traveled to the item she got there. I cut open an apple so the kids could see the star shape on the inside. They guessed how many seeds would be in the apple and then we counted them. We finished up the week by studying Johnny Appleseed. We read books and went to a library program called Happy Birthday, Johnny Appleseed.
I decided to have Caleigh start making a notebook for all the things she's studying. This is our first attempt at lapbooking/notebooking.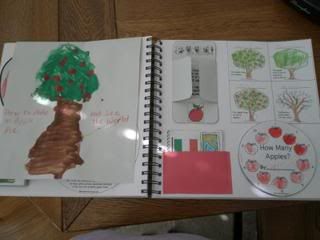 Here it is with the apple tree she painted lifted so you can see the rest of the page.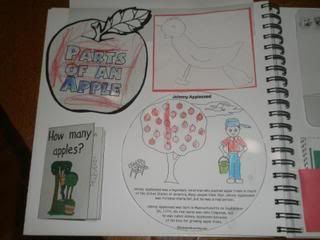 This picture is with some of the flaps open.
The girls helped me make apple dumplings one day and an apple cake a few days later. They love to help cook. I forgot to get any pictures of them making the cake.