We've been checking out holiday events in the area.
We went to see a play, A Christmas Carol: A Ghost Story of Christmas. I thought it was really good.
We went to a tree lighting where they were making fake snow to cover the ground. The kids enjoyed making snowballs.
We went to a craft show, where the kids got to see Santa.
We saw a live nativity called the Living Christmas Story. Instead of just one scene like these usually have, they had 19 different scenes including Gabriel coming to Mary, different parts of Bethlehem, and the nativity.
We also went to a drive through light display.
They had a place to get out for a gift shop, Santa, a sand sculpture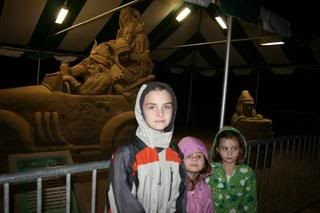 and a trail to walk through with displays.