One of our favorite picture books is How to Make an Apple Pie and See the World, so I decided we would use the newer book, How to Make a Cherry Pie and See the U.S.A. to go along with studying Independence Day. In this book, the girl has all her ingredients, but she needs the equipment (bowl, rolling pin, pot holders, etc.). As in the first book, the store is closed (this time because it's the 4th of July) so she has to travel to find the natural resources needed to make what she needs.
We used our map to follow along to all the states she visits. We colored in each of those states on the map in our notebook. We discussed what she made from each of the things she gathered and how some of the processes work. During her travels, we see many landmarks that we read more about. From there, we discussed the Fourth of July, what it means, the American Revolution, George Washington, the American flag, Declaration of Independence, Thomas Jefferson, and John Hancock. Using Draw Write Now, they drew the Statue of Liberty.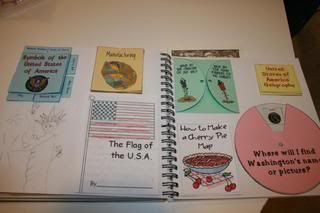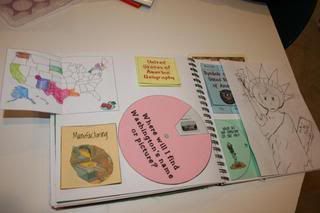 I printed out this street scene, cut them out, and had the kids glue them to the bags so they could have their own similar to the one in the book. As you can see, they've already added some people and vehicles to it.