Chad had to work in PA this week so we tagged along. While he was working, the kids and I visited Hershey, PA. We'd gone there a few years ago, but the girls didn't remember it.
On our first day, we visited Zoo America where we got rained on a little.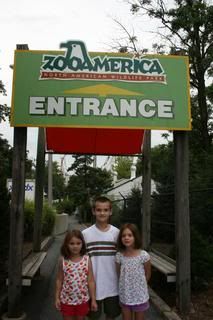 After lunch, I had planned to go to Chocolate World, but the regular parking lots were already full and they were taking people by tram from another one. I guess the rain caused people to go there since it's inside so we decided to wait until the next day and hope it wasn't as crowded. Instead, we went to a neat toy store called Toys on the Square.
The next morning, we headed to Chocolate World first thing and found no crowds. We did the Hershey's Chocolate tour first with no wait. The kids liked seeing all the things that have to be done to make the chocolate. Last year when we studied the rainforest, we talked about how chocolate comes from cocoa beans and they remembered some stuff from that. Of course their favorite part was the candy bar they give you at the end.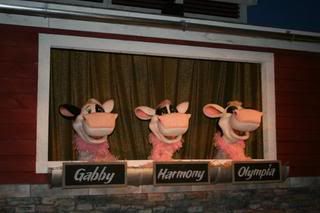 After that, we saw the Hershey Kiss and just had to go get a picture.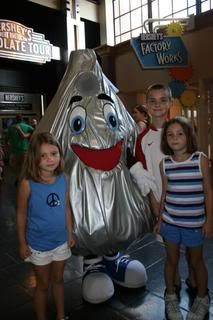 Later while the kids were deciding what they should buy to take back to Chad, we spotted the Reese Cup.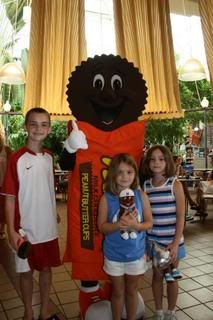 Then they decided we needed to go on the tour again. I think it was mostly to get another candy bar. After having already seen it once, I guess they were looking closer this time. Caleigh said, "Hey, those are mirrors. I don't even think they're doing the things they say in there. Do they actually even make chocolate in this place?"

After that, the kids became factory workers at the Kisses Packaging place.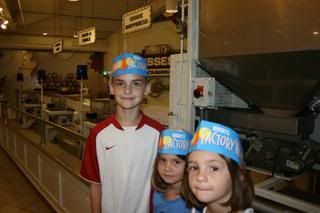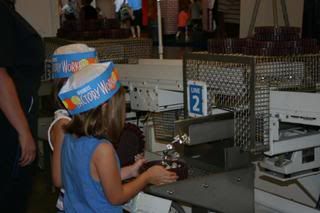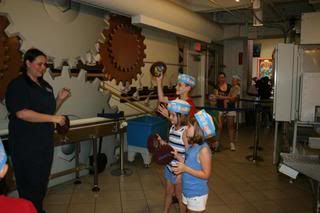 When my kids watch a show or something, they always seem to pick a character that they say is them. As soon as we got to Chocolate World and saw the sign out front, they decided that Caleigh was the Kiss, Colin the Reese Cup, and Molly the Hershey Bar. So when they saw stuffed toys of them, they thought they just had to have them.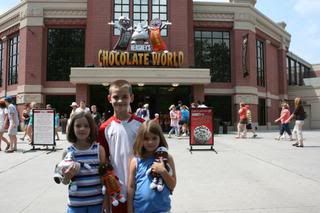 I thought it was better than these giant candies they had asked for first so I agreed.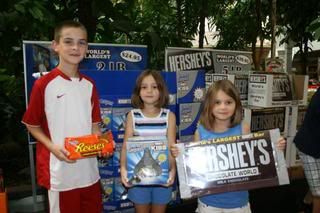 Once we left there, I was going to take them to the outlets, but as we were about to pass Zoo America, they all started yelling that they wanted to go back there. We have a membership card that gets us into zoos free so we went again.
Here's a picture of the street where you can see the Hershey kiss lights.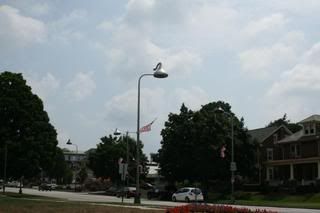 And here is my little Hershey Kiss: