We got started back to school after our week break for Thanksgiving. Sometimes we don't end up getting to do all the fun things I find for holidays because of our other work so I've decided to actually schedule it in this month. It's a good thing I did because I ended up being sick all week and we didn't get to everything I planned. Normally, I would have seen holiday stuff as extra and it would have been cut out first. Colin will do spelling, math, grammar, and some history. Caleigh will do reading, math, and handwriting. The rest of our time will be spent on Christmas stuff. Most days we'll focus on one book. We'll read other books and do activities that go along with that book. We'll watch lots of Christmas shows, do crafts, and cooking.
One day, we read The Wild Christmas Reindeer. We also read Rudolph the Red Nosed Reindeer and watched the cartoon. Then we made reindeer ornaments (in the picture below).
Another day, we read Santa's Favortie Story and This is the Star. We made a foam Santa craft.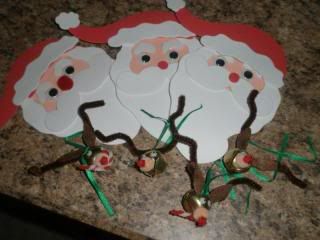 We read a lot of other books last week, but these are the ones we liked the most are The Legend of the Candy Cane and The Christmas Miracle of Jonathan Toomey.