Today, we read Gingerbread Baby, The Gingerbread Boy, and The Gingerbread Girl. Then we compared the stories. Then we made our own gingerbread men. Actually, they were snowman shaped because I couldn't find the other cookie cutter. Aren't my helpers cute?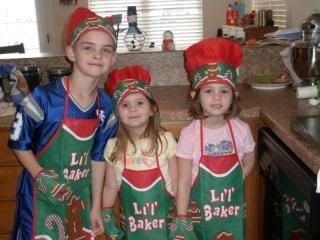 Here are the cookies they decorated. Molly had already taken a bite of hers. She told me he didn't want to wear a hat so she bit it off for him.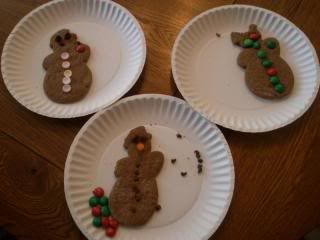 Then we made some gingerbread ornaments. We started out using glitter glue, but the girls were having a hard time with it. They ended up finishing with markers.
Molly has been running around the house with her ornament trying to get everyone to chase her. She comes up to us and says, "Run, run. You can't catch me. I'm the gingerbread man." Then she takes off running.