We're on vacation in Florida to go to Universal Studios, but we couldn't pass up a chance to go to Disney World when we're so close. I've always wanted to go to Mickey's Not So Scary Halloween party so we decided to give it a try. We all had a really great time. We were happy with what we got to do and got a little taste of Disney to hold us over until the next time. '
The party is officially from regular park closing at 7 p.m. to midnight. They will allow you in at 4 p.m. with your party ticket though. We got there a little after that with our costumed children. Colin's costume was very hot so we convinced him to take it off. To accomplish that, we had to buy him a shirt and hat. He still ended up putting the costume back on once the party started. He was very happy that many people knew he was Jango Fett.
We tried to do most of the rides we wanted before the party.
Rides We Did:
Mad Tea Party
Winnie the Pooh
Dumbo (the girls and me)
Splash Mountain (boys)
Big Thunder Mountain Railroad (boys)
Peter Pan's Flight
Snow White's Scary Adventure
Buzz Lightyear
Astro Orbiter (rode this during the party)
Magic Carpets of Aladdin (during party)
Goofy's Barnstormer (boys during party)
Characters We Met:
Cinderella
Belle
Sleeping Beauty
Pooh (Super Sleuth costume)
Eeyore (dressed as clown)
Minnie (witch costume)
Mickey (magician costume)
Mad Hatter (we just missed Alice; she took a break when we were almost there)
Lady Tremaine, Anastasia, & Drizella (Cinderalla's step-mother and step-sisters) '
We saw a lot of other characters out that the kids either didn't want to see or the lines were too long. I would have liked to have seen Snow White since she had all seven dwarves with her, but the line was long and the kids weren't too interested. We are usually able to see her and Dopey on every trip. I really wanted to see Piglet since he's not out much and he was dressed as Tinkerbell, but we just didn't get to it.
They had two dance parties with the characters. Colin, Caleigh, and I were able to dance with Donald Duck (in pumpkin costume) and Daisy (princess costume). Later, Caleigh and I went to the other party with Goofy, Stitch, and Pluto (all in costumes, but I can't remember what they were).
It started to rain right around 7:00 so we were afraid it would ruin the party. We decided just to go on and do things anyway. We got the girls pictures in front of Cinderella's carriage. I really wanted to do that since Caleigh was dressed as Cinderella. At first, she wasn't happy to be getting wet, but she did good and we got a nice picture. Then we did some trick or treating. We ended up getting a huge bag of candy even though we didn't even stop at all the spots or go looking for them. The rain didn't last too long and we all started drying out.
The fireworks were really good and we all really liked the parade. Many of the characters were in costume. At the beginning, the headless horseman rode through.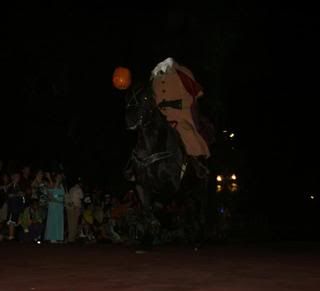 We left the park right at midnight. The kids did well staying up. Molly fell asleep in the stroller on the way out. She was very upset when she woke up as we got to the truck. Once we got to the hotel and everyone changed, they quickly went to sleep.
I'm really glad we decided to do the party. It was cheaper than a regular one day pass and we still got 8 hours in the park. We enjoyed many of the party events. It was fun seeing characters dressed up. The kids had fun getting dressed up in their costumes too. I know some girls dress in princess costumes on regular days, but we've never let our kids so it was a big deal for them. They thought it was neat to go trick or treating there too.