My son has been asking to go to Universal for a long time. He's seen the signs when we've been to Florida. Boys love superheroes. We love Walt Disney World though and just never took the time to go anywhere else while there. We also weren't sure if there would be much for the girls to do there.
A few months ago, we found out that we would be in Orlando. We spent two weeks at WDW in January so this seemed like a good time to try something different.
I think it was a good time of year to go. It was still hot, but not too bad and not crowded. Most waits were 5-10 minutes. On Saturday, it did get more crowded, but still manageable. I'm glad we tried it and we had fun. It was nice to see new characters and the theming. I think it's a good park for 2-3 days. The kids weren't too interested in Universal Studios, but they really liked Islands of Adventure (mainly Seuss Landing and Marvel Super Hero Island).
Things we did at Universal Studios:


Jimmy Neutron: kids liked this and we did it twice; for some reason, it scared Molly so she and I got stationary seats the second time and she liked it better.


Shrek 4-D: not sure why, but Caleigh wouldn't do this; Chad saw it with the other two


Jaws: Chad, Colin, and Molly rode this; Colin thought it was a little scary


Animal Actors on Location: kids all liked this show


Curious George Goes to Town: small waterpark that the kids would have stayed at all day if we let them


Woody Woodpecker's Coaster: Molly loved this; she and Colin rode it 3 or 4 times


E.T. Adventure: they all liked this; Molly kept saying let's go back to see Little E.T.


Men In Black: Chad rode this with Colin and Molly; they said it was similar to Buzz Lightyear


Characters: Scooby, Shaggy, Madagascar (penguins & lion), Shrek, Donkey, Woody Woodpecker, Curious George, Man in the Yellow Hat, Bart Simpson. We also saw Fiona, Spongebob, and Dora, but didn't meet them.


Things we did at Islands of Adventure:


The Cat in the Hat: loved this and did it many times


One Fish, Two Fish, Red Fish, Blue Fish: they really liked this and did it many times


Caro-Seuss-el: just a carousel, but it did have some unique animals and they liked it


High in the Sky Seuss Trolley Train Ride: the girls really liked this; the first time we rode it was the best because it told the story of the Sneetches (really good since Chad didn't know it), but all the other times it just did a rhyming thing that none of us liked as much


If I Ran the Zoo: small play area


Spiderman Adventure: this scared Caleigh a little even though I wouldn't have thought it was scary for her; Chad and Colin rode it 3 or 4 times


Storm Force Acceletron: this is just like teacups at WDW so the girls loved it


Popeye & Bluto's Bilge-Rat Barges: Chad, Colin, & Molly did this twice; they got soaked


Me Ship, the Olive: the girls liked this play area, but it made me nervous because they would slide down and it took me a while to get down the 2 flights of stairs to get to them


Dudley Do-Right's Ripsaw Falls: one time on this was enough for Colin


Jurassic Park River Adventure: Molly and Chad went on this and later took Colin. It was funny because Molly kept telling Colin what was about to happen and trying to reassure him it wasn't going to be scary even though she was holding onto Chad as tight as possible the whole time. Caleigh loved standing in the splash zone of this ride. She got wetter than the people on the ride.


Jurassic Park Discovery Center: We saw a dinosaur hatch here. Colin was chosen to give the baby a name; he couldn't think of one and so it was named after me. He got a certificate for naming baby Sarah.


Characters: Cat in the Hat, Thing 1, Thing 2, Grinch, Sam I Am, Spiderman, Wolverine, Captain America, Storm, Rogue, Cyclops, Betty Boop


We also did a character breakfast at Confisco Grille. The food was pretty good and the characters were great, especially Spiderman. He really took the time to talk to the kids. The funniest thing happened when we arrived at the restaurant. Spiderman was perched on the railing. Colin assumed it was a statue and reach out to touch the leg. Just when his hand was almost there, Spiderman said, "Watch what you're touching, kid." Colin screamed because he was so surprised. The girls teased him and laughed about it for days.
I'm sure we'll be going back again sometime. My sister says we have to go with her when the Harry Potter section opens and I know the kids wouldn't object to that.
Here are a few pictures (there are more on my facebook for those who are my friend on there):
This is where Spiderman was when he scared Colin.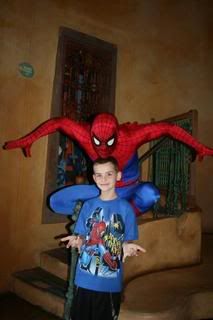 That Cat in the Hat was a big hugger.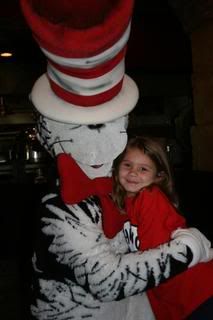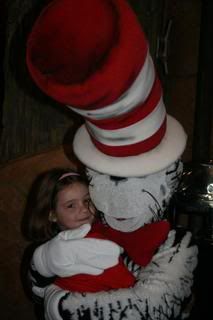 The girls loved these shirts and started talking about themselves as if they were really the Things.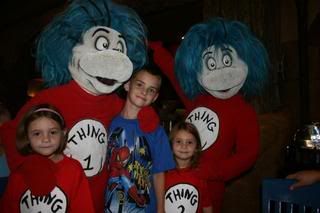 Chad is a Grinch fan. Not sure the feeling is mutual though. In some other picutes, he's holding his nose saying Chad stinks.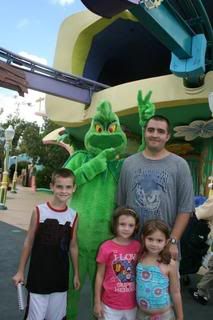 Another Colin funny. He didn't know what to think when this guy grabbed him.