Last week we rowed the book,
Night of the Moonjellies
.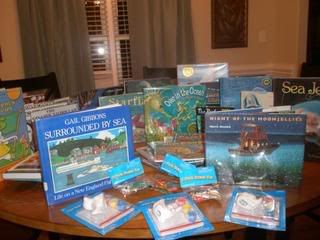 Geography: New England states
Social Studies: responsibility
Math: money (Caleigh)
Art: drawing with pastels, draw ocean animals using
Draw Write Now
Science: oceans, jellyfish
We located the New England states on our map, talked about which ones were included in that, and discussed why the area is called New England. We read books on oceans, coral reefs, jellyfish, crabs, starfish, money, the beach, and kids working.
Notebook Pages (this is Caleigh's; Colin's doesn't have anything different)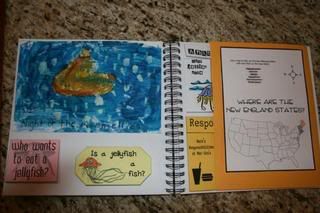 On the left is her drawing of the cover of the book. She used pastels and then watercolors.
If you open, the U.S. map, it looks like this: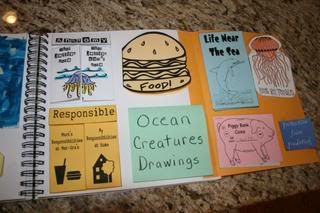 Most of the books came from homeschool share. There are the jellfish ones (anatomy, predators, protection, and how the get food). There are also some that have to do more directly with the book (responsibilities of the boy in the story, list of food from the restaurant, and map showing New England states). The drawings book is their drawings from Draw Write Now.
Here is a picture of Molly's pastel/watercolor drawing. She insists it looks just like the cover of the book. I had to show it because she was so funny. She held it up to the book as if that would definitely prove it.
We made our own jellyfish. We cut 3" styrofoam balls in half, painted them, sprinkled glitter on, waited for them to dry, and then taped streamers to the bottom.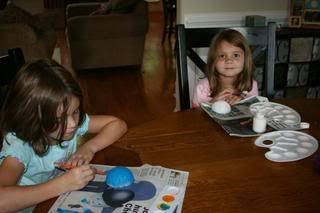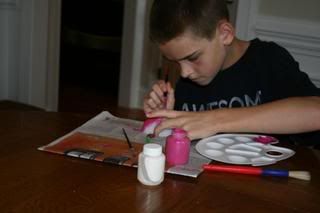 Finished jellyfish: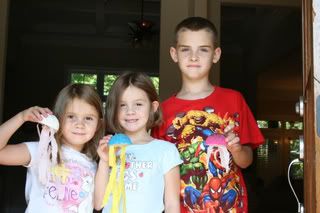 The kids painted some sea creatures I found in the dollar section at Target. They played a game called Leap Around. It's like Twister, but with sea animals.
For snack time, we made oysters using vanilla wafers, frosting, and mint balls.