This is the book we were working on last week when we all got sick. The girls loved this book. They carried it around looking through it and talking about the story even when I wasn't able to read to them. It's about a little girl going out for the day with her mother to run errands. The girl carries her green pocketbook and collects something from each place they visit. I had hoped to take the kids on a similar trip. We were going to try to ride the bus and visit a bank, drug store, etc. and finish by going to a soda shop for ice cream just like the little girl. I'm going to try to read the book again sometime and do this because I know the kids would really enjoy it. The girls did make green pocketbooks and they took them to the mall.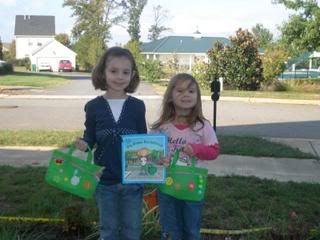 I got these at the Dollar Tree and it came with the stuff to decorate them.
Here is the notebook page. There are cards inside the pocketbook for each of the items the girl collected. The shape book came from enchanted learning. Most of our stuff comes from there and homeschool share.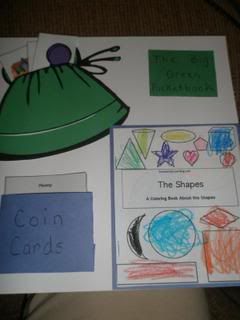 We read a cute book to go along with this called When Dinosaurs Came with Everything. A boy is running errands with his mom. Every time they buy something, they are given a real dinosaur. After a few stops, the mom decides to just go home because she doesn't want anymore dinosaurs.