I was afraid the girls wouldn't be very excited about this book, but they did well and Colin kept sneaking in to listen in when I was working with them. The book is about Louis Bleriot's flight across the English Channel. We located France, England, and the English Channel on our map. When I said France, Molly said, "That's where Madeline lives." We made a list of different ways to travel, talked about the parts of an airplane, learned Roman numerals 1-11, and Caleigh drew an airplane using the Draw Write Now book. We also read books about the Wright brothers, Charles Lindbergh, Amelia Earhart, Ruth Law, and hot air balloons.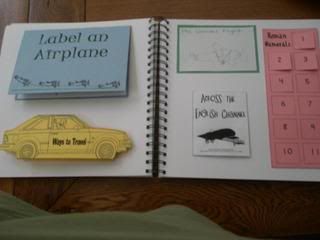 Here are the flaps open for the parts of an airplane and ways to travel: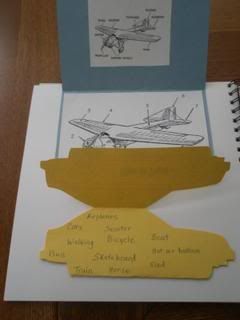 This page has Caleigh's drawing and a map of the English Channel. There's also a Roman numerals booklet. I'm not sure if you can see from the picture, but when you open the numbers, you can see the roman numerals that Caleigh wrote.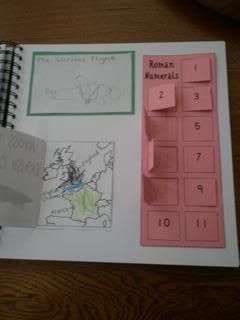 I also got them small wooden airplanes to paint. They took them upstairs to play with before I could get a picture though.