This week the girls (and Colin some too) studied
Madeline
by Ludwig Bemelmans. We're supposed to read the book five days in a row, but Caleigh keeps asking me not to read it everyday so we read other Madeline books instead of doing the same one each day. Here are the ones we read:
Madeline's Rescue
,
Madeline in London
,
Madeline Says Merci
,
Madeline and the Gypsies
, and
Madeline and the Bad Hat
. We found France on our globe and marked it with our story disk. We read some books about France and read that section in
Children Just Like Me
. Here are the girls with the Madelines they made.
Here's a close up of them.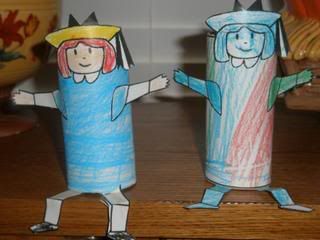 We read a book about the Eiffel Tower, played games and looked at pictures on a website, and attempted to make it out of Legos.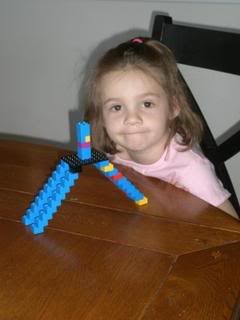 We made French pastries. Okay they were really crescent rolls and chocolate chips, but the kids didn't care and thought they were good.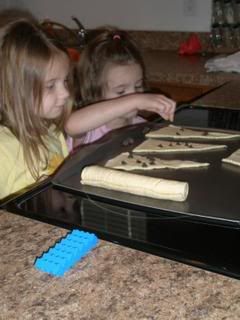 Here we used blocks to represent Madeline and the other 11 girls. I had Caleigh divide the girls (blocks) into different groups.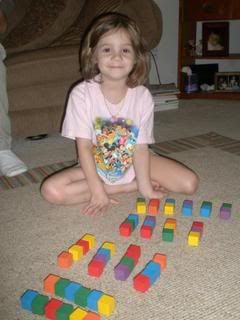 Here are this week's notebook pages.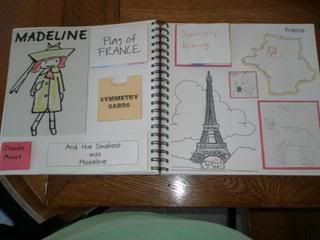 Here you can see the flag Caleigh made, the symmetry cards where she completed the missing side, and girls she put in order from smallest to largest.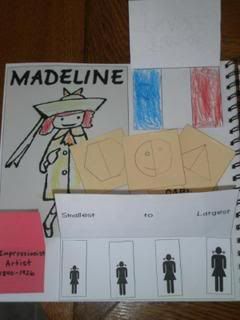 On this side is her map work with Paris and the Seine River marked, the Eiffel Tower, a heart she painted and then folded to show symmetry, and a tiger she drew (she kept talking about how Madeline wasn't afraid of the tiger in the story).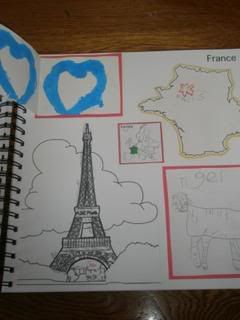 Then we talked a little about Claude Monet. We watched Linnea in Monet's Garden and also looked at his paintings in the book. They made their own paintings with watercolors.
We finished our week by watching Madeline, the movie. The girls liked finding all the things in the movie that they remembered from the books.
I think they had fun. I keep overhearing them talk about Madeline, Miss Clavel, 12 girls in two straight lines, and the Eiffel Tower when they're playing.