Chad had to work in Asheville this week so we tagged along. Tuesday we went to the NC Arboretum. I wanted to see some of the fall colors and thought it would be good for the kids to get out of the hotel and run around some. The kids enjoyed it much more than I had thought they would and have already asked to go back. We walked some trails, walked through the gardens, and looked at the displays.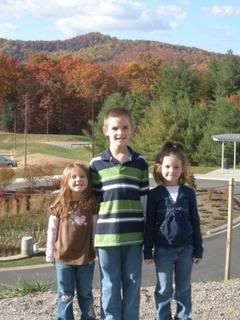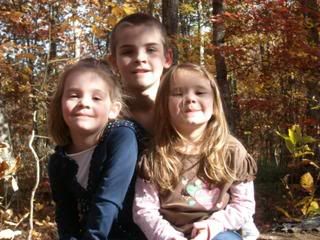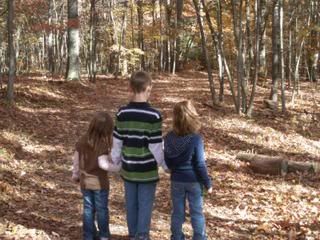 Molly complains anytime we go somewhere without her stroller so it wasn't long before she was complaining. She would say her legs hurt and someone needed to carry her. As soon as she would see something that interested her though, she would run to it. Here you can see that the cute face worked on Colin.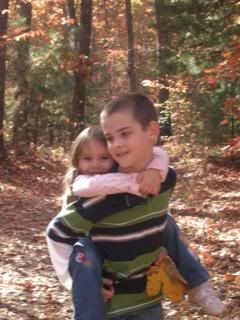 Today, we went to The Health Adventure Museum. It went along well with our school since Colin is just getting ready to finish up his human body study.
They were fascinated by this skeleton pedaling a bicycle.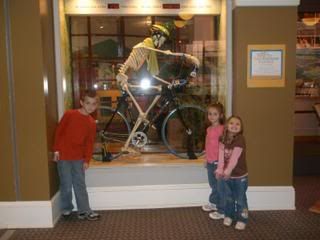 This body had transparent skin. It would light up and talk about the different parts of the body.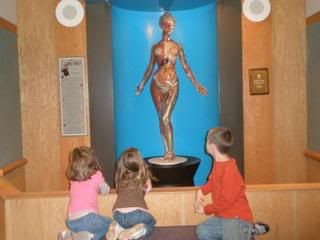 They had a Curious George section, which was one of their favorite parts.
We also went to the Earth Science Museum for a little while since it was in the same building.
The kids said it was a fun trip, but we were all glad to get home tonight.