Last week, Colin studied ancient China for history and the girls were doing The Story of Ping so they all studied China together. Some books we read were Children Just Like Me, The Five Chinese Brothers, Tikki Tikki Tembo, The Story of Paper, Ma Jiang and the Orange Ants, Come Along Daisy, The Little Duck, Daisy Comes Home, and Giant Pandas. We also went to a Chinese restaurant, where the kids attempted to use chopsticks and got fortune cookies. We talked about buoyancy and experimented to see which things float.
Here is Caleigh's notebook page: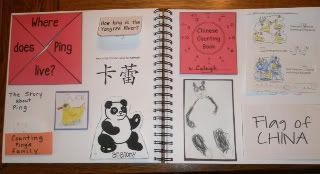 Under where does Ping live, there is a map of China with the Yangtze River drawn in and marked. She drew a duck and a panda using Draw Write Now. For counting Ping's family, we had a small duck card for each member (68 in all) and counted them. I printed out her name in Chinese. For the panda anatomy booklet, she told me about its coloring, size, eyes, paws, fur, and teeth and I wrote it for her. The Chinese counting book has a page for numbers 1-12. Each page has the corresponding number of objects related to China, our number, the Chinese number, and pronunciation. On each page, she wrote the number our way and then the Chinese way. She colored China's flag. Then there are some math worksheets using ducks in the story problems.