We did the book,
When I Was Young in the Mountains
, last week. It's set in the Appalachian Mountains so I decided to stay with that theme and do
The Rag Coat
by Lauren Mills this week. Most of our activities came from the Five in a Row manual and a project pack from In the Hands of a Child.
In the story, the girl's father is a coal miner. He dies from black lung disease. The girl needs a coat to go to school so the women who quilt with her mother make her one by using their rags.
Geography: Appalachian Mountains
Coal Mining: What is it?, Two types of mining (surface & underground), dangers of mining, black lung disease
Quilting: what is quilting?, made a scrapbook to show different types of quilting patterns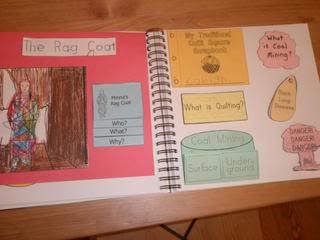 On the left is a picture of the girl in her rag coat that the kids colored. Beside that is a layer book about the rag coat. On the right are the coal mining and quilt books.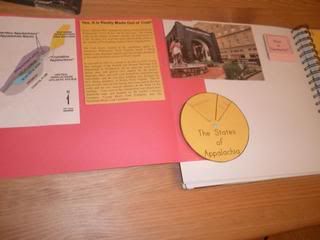 When you open it up, there is a partial map of the U.S. It shows the Appalachian Mountains. By turning the wheel, you can see the list of states Appalachia runs through. My sister sent the postcard for the kids. It has a picture of a building made of coal. We have information about the coal house to the left of the postcard. We left a blank space to include a picture later. Most of our family lives in eastern KY so we'll probably just take a picture of them with the mountains or something next time we visit.