We are actually still studying ancient history, but I decided to jump into the middle ages last week. I wanted the kids to learn a little about knights, castles, kings, etc. in preparation for going to the Carolina Renaissance Festival. We'll continue studying that for this week so I'll get some information about what we did and pictures up later this week.
We all had a really good time at the festival. It was a little cold, which caused us to leave earlier than we would have otherwise. There was still a lot we didn't get to see. There are so many different shows going on that there isn't any way to see them all in one day. Besides that, there are many entertainers (musicians, jugglers, magicians, etc.) just hanging around. We were able to see a birds of prey show, acrobats, a harpist, Green Man (looks like a tree), glass blowing, a goose that hugged the kids, and a jousting tournament. I think the jousting was Colin's favorite thing. He really wanted to see the last part where they joust to the death, but the girls were just too cold.
Here's a picture from the joust: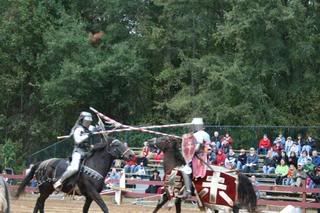 Twig the Fairy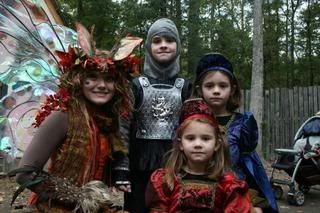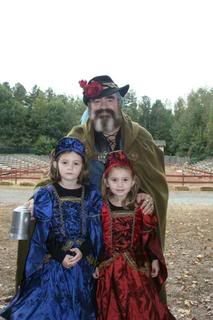 Colin just had to have this helmet to go with the rest of his knight costume.