This week we read The Great Kapok Tree. A man falls asleep while cutting down a kapok tree in the rainforest. While he is sleeping, the animals living in the tree whisper to him why he shouldn't cut it down. Most of what we did came from the unit study at Homeschool Share.
We learned about the locations and layers of the rainforest. We read about many different animals who live in the rainforest and plants that grow there.
We did a taste test of foods grown in the jungle. Some of the foods they tasted: pineapple, coconut, avocado, lemon, lime, cocoa powder, vanilla, cinnamon, ginger, and nutmeg.
Colin is on a Jr. Lego League team. For their project, they have chosen to find out about the Hershey bar. They've learned how and where it begins, how and where it's made, and the transportation involved. Since the cacao tree grows in the rainforest, we researched more on how chocolate is made.
The rainforest animal book on Caleigh's page came from Enchanted Learning. All the rest, except the taste test chart, came from Homeschool Share.
Caleigh's notebook pages:
Colin's notebook pages: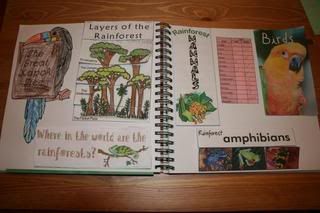 He wrote down the different mammals and birds that live in the rainforest in the little books. Here it is opened up: