Last week, we worked with the book,
Harold and the Purple Crayon
.
Here is our purple art. I gave them lots of purple stuff (paper shapes, rhinestones, paint, crayons and buttons) to make their pictures. Caleigh's is on top, Molly's is on the left, and Colin's on the right.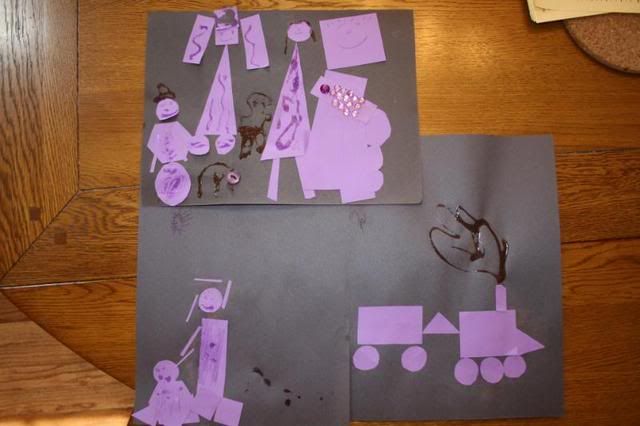 Here are the notebook pages: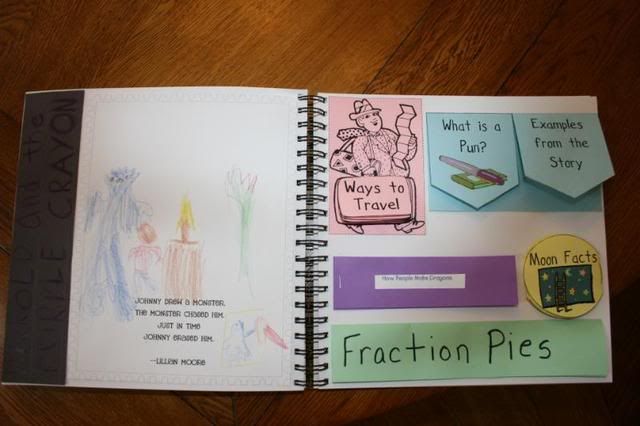 Left:
They wrote the name of the book. They illustrated a poem. It's about a boy who draws a monster. He is chased by the monster so he erases him.
Right:
Ways to travel: we first discussed how Harold traveled in the story and then we added other ways.
Puns: we talked about what puns are, found examples in the story, and read a few Amelia Bedelia boooks, and discussed the puns we found in them.
Moon: they drew and labeled the phases of the moon.
We watched a video online of how crayons are made.
Fraction Pies: they labeled the pies with the correct fractions.