After only four months here, we're moving again. We've known for a while that we probably wouldn't stay here long. It hasn't really been long enough for any of us to settle in so no one is upset about moving. There is a little disappointment that we won't be as close to the beach now that it's finally warming up enough to go some. We've had to promise a big sandbox and that we'll be visiting the beach soon after moving.
We're all used to moving. This will be my 20th move since I got married 14 years ago. That's only counting the times all our things moved, not when we were in temporary apartments. This will be the 10th house we've lived in in the last 4 1/2 years alone. We've found a new house and scheduled the movers. So for now it's mostly just waiting until the time comes. I've been making a list of all the things we'd like to do and see before we go. Every time we move, I seem to be rushing to do all the things in the area that we haven't made time for before.
I hope we end up loving this new town and staying there for a long time. There are a lot of things we're looking forward to after the move. The kids are happy that they will have a Lego Store and Disney Store nearby again. I'm happy that there will be a Super Target and a convenient Harris Teeter. Maybe I will be able to avoid going to Walmart more often. I've found a lot of activities and places to visit that sound fun. It also seems like it might be easier to find other homeschoolers there than it has been here. We also like the new house much better than this one. There will be room in the driveway for a basketball goal, everyone will have bedrooms on the first floor again, we'll get to have our theater back, Chad gets a 3 car garage again, a large playroom/schoolroom, and I'm hoping for a scrapbook room.
In some places we've lived, I've been lucky enough to have a separate room to store our school stuff in. We've always done our actual work in the kitchen or dining room though. In the new house, we'll have this space: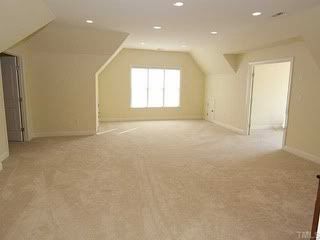 You cant see it in the picture, but there is also cabinets and a sink in the room. I'm hopeful that this room will work for not only storage, but as the place where we do school. I'll post an updated picture of it after we get moved in and unpacked.