My baby boy (okay, he's 9 1/2) went on his first airplane ride today. Chad needed to go to Ft. Lauderdale, FL, today and drive back so he thought it was a good chance for Colin to get to fly. It also meant Chad would have some company on the drive back to NC. Colin was nervous last night and thought about backing out. I think he was excited too. Here he is waiting for take off.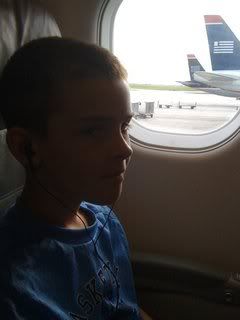 He called me right before he was exiting the plane. He said the only part that was a little scary was taking off.
The girls were jealous and wanted to go too, which surprised us. Molly isn't usually afraid of things, but a few weeks ago, she refused to go on a dolphin cruise when we were at the beach. She was sure the boat would turn over. She told me she didn't think airplanes would turn over though so they were safe. Caleigh is afraid of a lot of things. When we've considered flying somewhere, we've always worried she wouldn't be able to handle it. She's been on amusement park rides that have scared her so much that we aren't able to reason with her or calm her down.