For science, Colin was learning about rivers and flooding so I decided to do this book and have everyone working on the same thing. Our main topics were lighthouses, rivers, and New York.
Most of what we did came from the Five in a Row manual or website and
http://www.homeschoolshare.com/
. The kids were excited to find out that the little red lighthouse and the great gray bridge (George Washington Bridge) are real places. We looked at some different websites and were able to find a real picture so they could see the size difference between the two.
Geography: NY (map work, state symbols, landmarks)
Science: lighthouses, rivers (they both labeled a river system and Colin did a word search and crossword puzzle), bridges (discussed construction; found Hudson River on map), floods
Language arts: Personification (discussed and illustrated their own examples), compound words (reviewed with Colin; Caleigh did a worksheet pasting 2 words in to match the given clue)
Art: draw a sailboat, lighthouse craft
One of our books was about a boat used to help after 9/11. Since we were already talking about NY, I decided to go ahead and discuss what happened on 9/11 with them.
Colin's Notebook: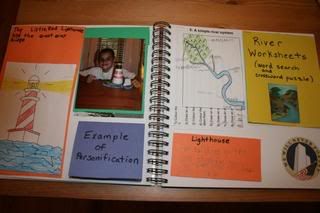 Here it is with some of the flaps open: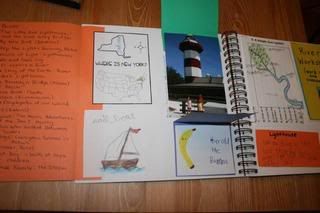 On the left side, I wrote all the books we read during the week. The lighthouse picture is one we visited in Hilton Head Island, SC this summer. The kids got to climb the winding stairs to the top.
Caleigh's notebook: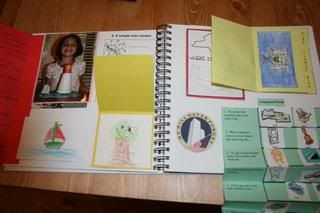 If you lift the picture of Caleigh with her lighthouse craft, you see the picture of them with the lighthouse we visited. On the bottom right is the compound word activity she did.
Here they all are with their lighthouses they made and some little foam boats we put together.