Last week, we spent some time working on fire safety. We read a lot of books on how to prevent fires, safety precautions to take at home, how to escape if there is a fire, firefighters, their gear, and firetrucks.
Here are the notebook pages: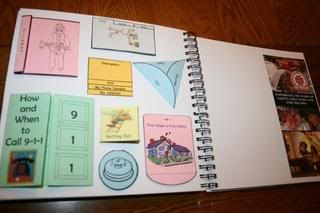 Small books: firemen (listed things a firefighter uses), our meeting spot, how and when to call 911, knowing your address in emergency, 4 steps to fire safety, smoke detector, questions about getting out, and stop, drop, and roll. The pamphlet is from the fire museum we visited. I'm planning to let the kids choose pictures from the museum trip to add to that page also.