Since we've been to Disney World a few times (okay some people would say a lot), we decided to make sure we tried some new things this trip. WDW is very large and it would take a long time to do everything. There are things at all four parks that we've missed on previous trips and we still missed some of them this time.
Caleigh and I sit out of some rides because she is scared of some things (I guess I should say that I'm scared of some things too so it works out well). She was much braver this trip though and did some new things. I hope she doesn't get too brave because I need her as an excuse to not ride some stuff. She and I rode Haunted Mansion for the first time. We tried last year, but she changed her mind in the room right before you get on. We got past there without a problem this year. Unfortunately, at exactly that time the ride stopped working. It was very dark and crowded so she started to get scared. They fixed it pretty quickly. Just as we started to get on, she wanted to skip it. I never make her get on anything she doesn't want to, but we were already right there and Chad had assured me there wasn't anything on the ride that would scare her so I kept going. After it was over, she said it wasn't scary, but she doesn't want to do it again. Caleigh also rode Soarin' for the first time. Everyone else rode it last year. She loved this ride and we had to do it 3 times.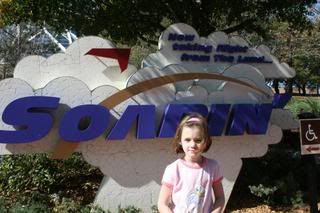 We saw Illuminations for the first time. We usually spend 2 days at Epcot each trip so I'm not sure how we've managed to miss it so many times.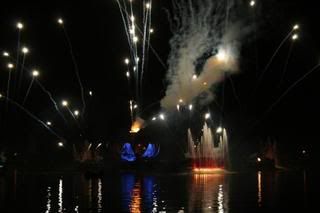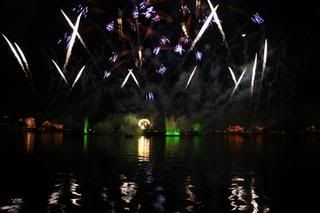 We did the Kim Possible missions. Last January, they were still testing it so this is the first chance we've had to do it. The kids loved it. They give you a phone that gives directions and clues. You go to the country it tells you and then find things. Pushing a button on the phone makes some of the things talk, play music, spin around, appear, etc. I think they did 4 or 5 different ones. I'm sure the kids will want to do that again next time.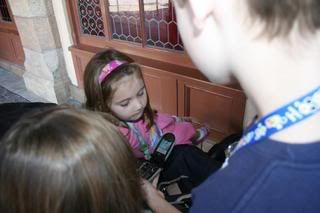 In Magic Kingdom, we did the Swiss Family Treehouse and took a raft over to Tom Sawyer's Island. We thought the treehouse seemed more like a line without the payoff at the end than an attraction. The kids liked exploring the island. In Animal Kingdom, we saw Flights of Wonder for the first time.
We were able to meet some new characters too. It seems like we can never get all the kids to want to meet characters at the same time. Last year, Colin wasn't interested. This year it was Caleigh who decided not to meet with many. Molly was very excited about it this year and wanted to meet everyone she saw.
The kids all really liked the characters from Up.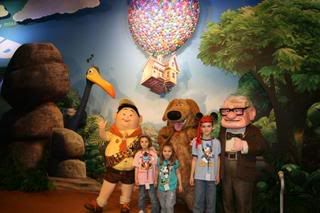 We've seen the Fairy Godmother around, but never met her.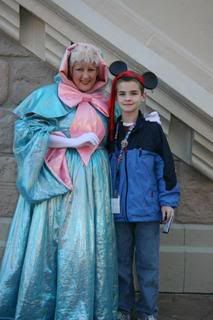 I don't think Molly knew who Marie is, but she wanted to meet the kitty as soon as she saw her. We had never seen her out before so I was hoping to run into her.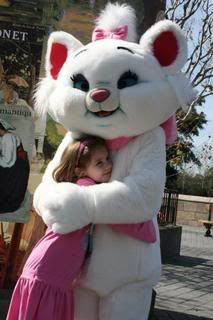 Brer Bear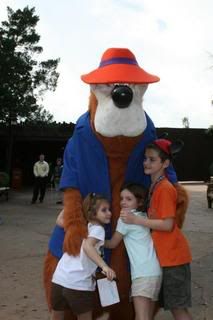 Brer Fox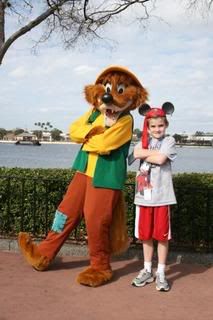 Thumper and Miss Bunny- we had never even seen them out before.
Princess Tiana and Naveen from The Princess and the Frog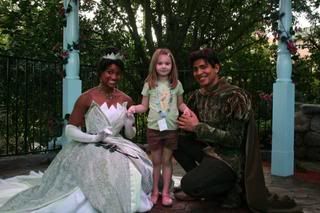 We were the last people they saw before taking their break. We went over to where Chad and Caleigh were waiting. As Tiana walked by, she noticed that she hadn't met Caleigh so she came over to give her a hug.
While researching previous trips, I had found out about a restaurant that serves an ice cream called the kitchen sink. We've thought of trying it before because we knew the kids would think it was fun, but never made it over there. We decided to walk over while visiting Epcot one day and have it for lunch. Yes, lunch! It was vacation after all. It's really huge. 8 scoops of ice cream and every topping they have plus a whole can of whipped cream. The bowl it's served in actually looks like a sink.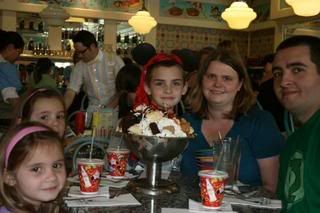 Here's Molly grabbing a cherry. We didn't notice how many she had eaten for a while because the stems were behind the bowl. Later, we counted them and found out she had eaten 30 cherries. She just loves them. Luckily, her brother and sister don't like them so they always give them to her.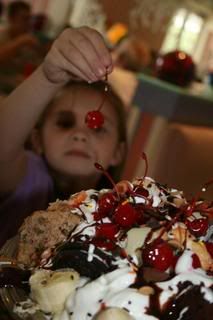 Colin getting the melted ice cream.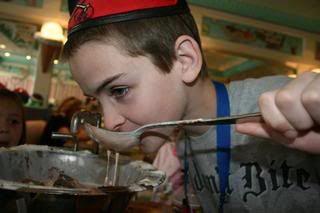 We usually rent a house or condo. This time we spent 4 nights at Buena Vista Palace and 3 night at Port Orleans Resort instead. BVP is right across from Downtown Disney. From our balcony, we had a view of the fireworks at Magic Kingdom and Epcot. That would have been much better if it had been warmer. Here's a picture of the Epcot ball from the balcony.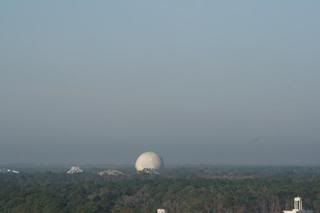 It was only our second time staying on Disney property. Port Orleans was really nice. It has trails, lots of trees, nice pools, a playground, a nice food court, and a boat to Downtown Disney. Here they are on the boat: