To go along with our study of Very Last First Time, we learned about igloos today by reading a book and watching a video of one being built. We also made igloo salad.
Ingredients:
1 (15.25 oz) can fruit cocktail, drained
1 (11 oz) can mandarin oranges, drained
1/2 cup flaked coconut (we left this out)
1 3/4 cups whipped topping, divided
2 1/2 cups miniature marshmallows, divided
In a bowl, combine the fruit cocktail, oranges, coconut, 1 cup whipped topping and 1/2 cup marshmallows. Spoon into two balls, one 5-1/2 in. and one 3-1/2 in., on a serving plate, with smaller ball in front of larger ball. Spoon out some salad from small ball to make a doorway. Cover with remaining whipped topping and marshmallows.
I should have made the front part a little smaller.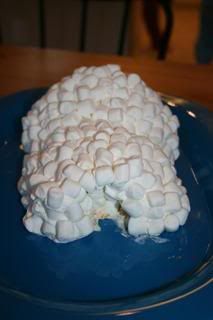 The kids liked sticking the marshmallows on. They ate some of it and said it was good.