Since the move, it's been hard to get school back on track. There just hasn't been enough time between that and holiday breaks. We have been doing math, spelling, grammar, phonics, and handwriting regularly. I had hoped to start some other stuff this past Monday. Well I was sick for a week so that didn't happen. Finally, today we started a study of the Five in a Row book, Very Last First Time.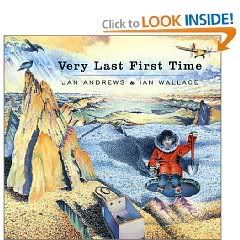 It's about an Inuit girl who walks on the bottom of the ocean to collect mussels. It's the first time she's ever done it alone.
Colin and Caleigh were really interested in the story and I hope they'll enjoy the activities I have planned to go along with it. Today we read about Canada and found it on the globe. They also made a Canadian flag.
We'll work on it some more tomorrow and Monday - Thursday next week. We'll be taking Friday off for Caleigh's birthday and then be on vacation the next week. So in 2 1/2 weeks, I'll be trying to get us all started back again.